The Internet of Things (IoT) is actually pretty simple: interconnected physical devices that can monitor, send or exchange data. But it fits today's need for real-time visibility and connectivity of all parts in the value chain in such a perfect way that it is about to fundamentally revolutionize supply chain management. IoT is the enabler of what we call an agile and intelligent enterprise. As a leading global player in the end-to-end digital supply chain, we can offer you the right approach to benefit from IoT in your business. Be it for your warehouse, transportation or manufacturing.
Digital innovation –
everything is connected.
Modern sensor technology enables companies to collect and analyze large amounts of data about physical processes. With the help of big data applications and machine learning, the information gained is made usable. These tools make it possible to break information silos and take a holistic view of the business. Historically separated data is transformed into a comprehensive end-to-end process view.
Connected data builds the basis for achieving overarching goals that become a reality when using IoT solutions, increasing efficiency, reducing costs, accelerating processes and implementing new business models. When used correctly, IoT becomes a central building block for positively influencing the future viability, growth and competitiveness of a company.
In short, IoT is about connecting machines, processes and software in a new and better way to make the right decisions at the right time.
We advise and support our customers from the development of initial ideas to the implementation of their solution. The best possible result is our challenge. We implement rapidly deployable, ROI-positive initiatives that help achieve specific business metrics. 
Push your

end-to-end

processes.
IoT applications can already offer considerable added value as stand-alone solutions. Nevertheless, they only unfold their full potential when they are integrated into central supply chain solutions and a broad IT landscape. IoT solutions are not a substitute, but they add value to existing supply chain solutions, including planning, manufacturing, warehousing and transport processes.
As a leading global player in the end-to-end digital supply chain, Westernacher Consulting specializes in enhancing existing IT solutions with IoT functionality. For more than 50 years, our mission has been to think ahead, to follow innovative paths – for you and with you. Our dedicated IoT team acts as a one-stop shop for your IoT initiative in the digital supply chain. From the moment we embark on this journey together, you will be in the middle of the world of IoT.
Start your rapidly deployable ROI-positive initiative today.
Smooth, efficient operations with IoT. Choose the most efficient option to manage your warehouse operations in real time – with IoT. By integrating sensor data with modern warehouse solutions, you can dramatically improve warehouse throughput, inventory planning capabilities and engage an efficient workforce. We have identified various types of projects that can be launched as standalone initiatives or as combinations of integrated enhancements within the warehouse:
Decrease labour costs and increase throughput through automated RFID scanning processes or geofencing backed by indoor position tracking.
Decrease spoilage/ damage and improve warehouse and silo planning capabilities by predicting and preventing unsuitable storage conditions.
Increase inventory location accuracy, resulting in more efficient warehouse task allocation, assignment, and execution while decreasing labour costs.
Automatically assign, monitor and confirm tasks to optimize forklift utilization and increase process automation through geofence position monitoring.
Establish trends to avoid dangerous situations and proactively identify risk and hazards.
Live visibility of stock levels, location, storage conditions is the enabler of your intelligent and integrated silo operation. Properly integrated into the end-to-end scenario, it not only ensures increased stock accuracy, improves planning, and automates reordering processes but safeguards product quality and offers new business models such as vendor management inventory scenarios.
Establishing quantity, quality, and condition tracking with sensor technology.
Automate processes such as replenishment, production, and planning.
Optimize storage conditions, product quality and stock situation.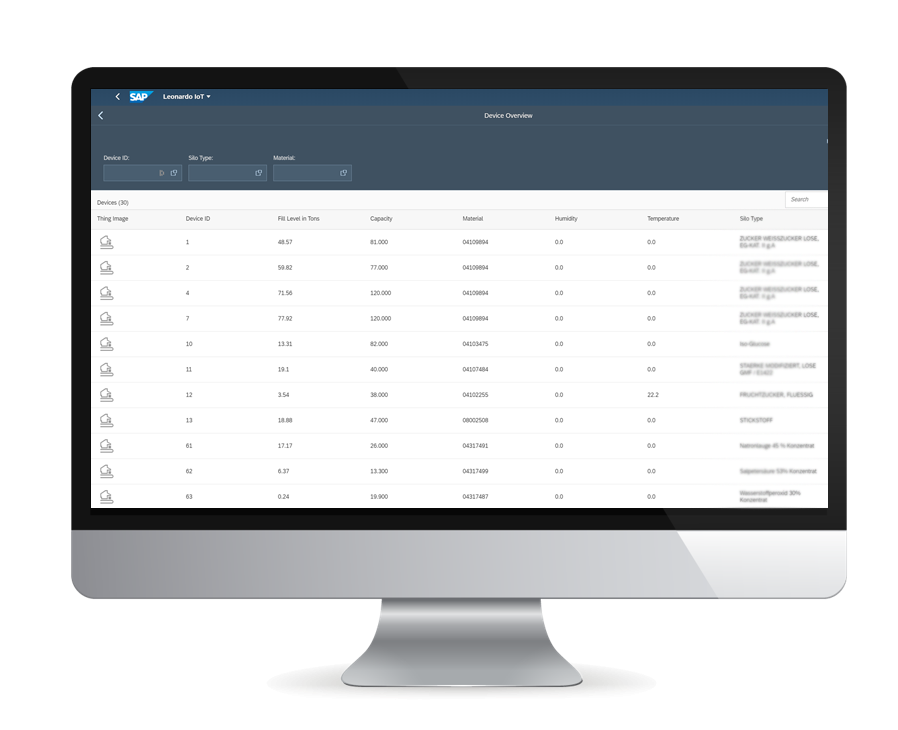 Connected Worker strategies and solutions are a vital part of the digital transformation of industrial operations to achieve the following goals:
Improve worker safety
Get insights beyond the data your safety devices already provide
Attain a holistic view of employees for awareness and responsiveness in real time
Increase operational efficiency
Proof of compliance at all times
The connected worker solution provides the following:
Real-time position
monitoring
and geofencing
Indoor and outdoor position tracking of workers and process integration with geofencing.
Safety and
health monitoring
Identification of incidents based on wearables, gas detection devices and camera recognition considering a personal shield of the worker.
Real time
visibility &
compliance
Management and operational dashboards overseeing all related processes and incidents as well as ensuring compliance at all times.
Tight integration
into S/4HANA or
SAP EHS
Integration into the end-to-end process by e.g. pulling permits from SAP Environment, Health and Safety (EHS), documenting statuses, triggering maintenance orders, etc.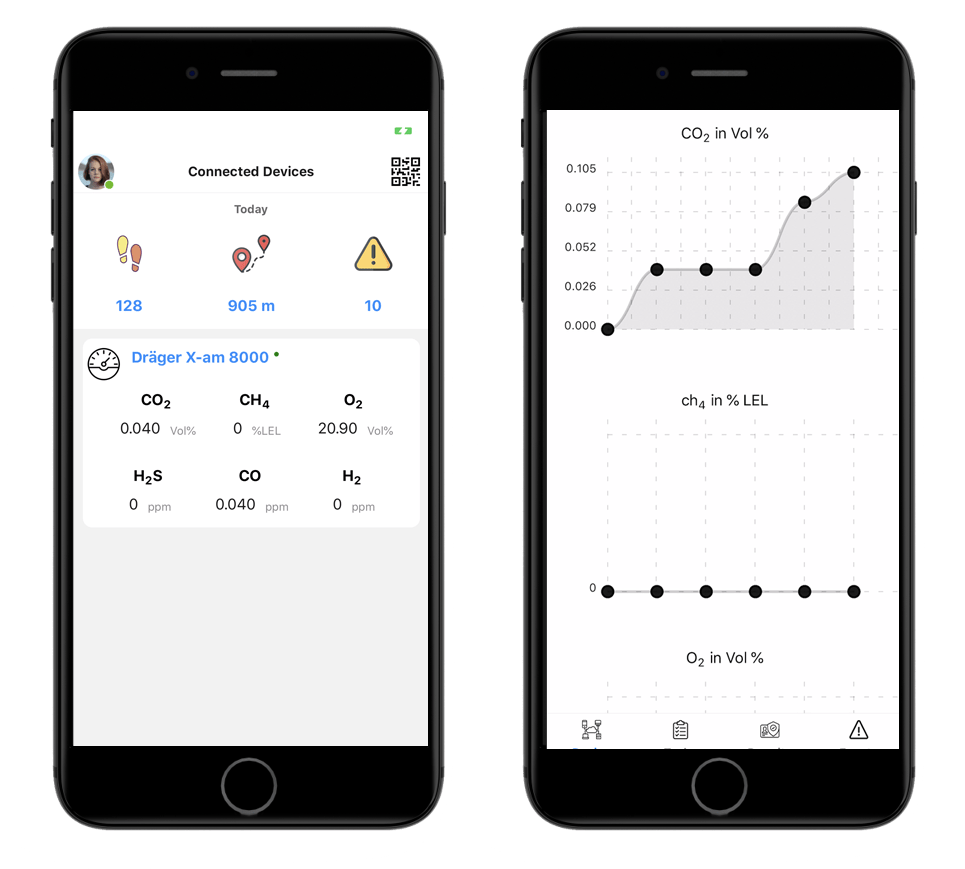 Connected

Assets & Products.
Internet of Things allows for a data-driven approach to physical asset management. Rather than rely on the traditional "gut feel" tactic when dealing with vehicles, production machines and equipment, an IoT solution allows you to establish performance patterns, utilization of best practices and predictive algorithms that prevent unplanned downtime. From production to distribution to after-sale service, the introduction of IoT allows for the creation of a feedback loop of continuous improvement. We can help in the following ways:
Monitor asset health to address issues before they become a problem. Decrease asset failure rate, reduce unscheduled downtime, significantly shorten recovery times and increase first-time-fix rates.
Monitor asset performance to identify patterns and establish best practices. Engage in a lifecycle of continuous improvement.
Real-time
inventory tracking
Keep a live count of your product stock and automate the replenishment process to achieve a more customer demand-centric approach, trigger quantity accurate re-orders and in-time availability of stock.
Inventory
quality control
Make sure your products are stored under the right conditions to ensure customer satisfaction.
Device location
monitoring
Keep track of moveable assets to ensure they are in the right place at the right time.
Schedule timely deliveries and optimize routes during convenient times, preventing out-of-stock scenarios.
Understand how your products perform in real life conditions to improve design and production processes.
Gain insight into customer behaviour patterns and preferences to adjust sales and marketing strategies. Increase customer loyalty through new services and products and improve customer satisfaction through built-in feedback options.
Existing TMS solutions offer only limited insight into the operation of commercial fleets. Often manual input of relevant information is the reason for a considerable reduction of data accuracy and data volume. Modern IoT sensors enable the automated collection of extensive and high-quality data, which enables better operational decisions and long-term process optimizations. We have identified three key IoT applications in transportation:
Always know where your fleet is. Predict delays, react to route changes and optimize long-term fleet utilization. Achieve concrete business benefits with available live information, e.g. ensuring the use of agreed routes and monitoring idling.
Monitor the transport conditions of your inventory. Prevent spoilage/damage by reacting to and predicting transport conditions in a timely manner.
Automatically track and confirm transportation execution stages. Increase transparency and customer satisfaction, while reducing manual involvement. Collaboration is becoming more and more important in an increasingly connected environment. All transportation-related IoT scenarios can be run in the cloud so that all the parties involved can get live access to the necessary information.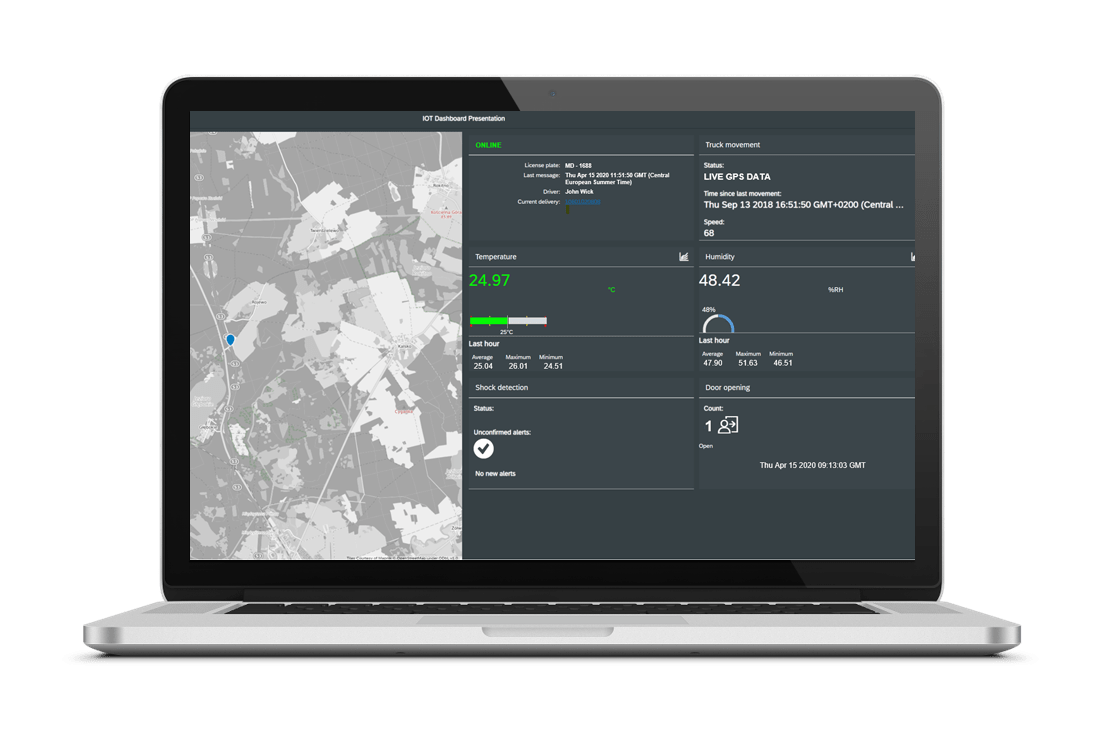 Learn how to use IoT to transform your business. IoT will have a comprehensive strategic impact to industries and their customers. Digitization has brought about a new customer with new possibilities and requirements. See this challenge as an opportunity and use it to your advantage.
Erhöhen Sie Sicherheit und Effizienz mit Connected Worker.
Aktuelle Trends, die Ihre Lieferkette zukunftssicher machen.
IoT in der Lieferkette: Transparenz. Stabilität. Automatisierung.
IoT und Transportmanagement: Vier bewährte Business Cases.
Drei Wege, wie Unternehmen das Silo-Management mit IoT und Westernacher verbessern.
Drei Business Cases für RFID im Lager.
A day in an Industry 4.0 Warehouse.
How to benefit from a connected supply chain with SAP TM and SAP EWM?
Three ways to benefit from connected machines with Industrial Internet of Things (IIoT).
World's first implementation of Connected Silo at Zentis.