Yard Logistics with

SAP YL.
Discover your yard as a value driver for your logistics processes. It is more than just plain ground. Maximize your visibility into all yard processes and preview planned workloads with a range of visualization and reporting tools so you can optimize resource use and support planning, execution, and billing with a single system. SAP's software Yard Logistics is the bridge between your transportation and warehousing. Westernacher Consulting was the first partner to implement SAP Yard Logistics in 2017. Since then, we've extended our expertise and are here for whatever you want to achieve on your yard.
Unleash the full potential of your

yard.
Operating a truck, container or rail yard more efficiently and profitably relies on the visibility of all yard processes and the ability to plan and manage workloads effectively. SAP Yard Logistics is able to support these capabilities across a vast spectrum of industries and transportation types by centralizing and simplifying yard management processes and operations […]
Pioneers in digitizing your

yard.
We were the first partner to implement SAP Yard Logistics in 2017. Since then, we've extended our expertise by delivering implementations and successful pilots to several customers throughout different industries worldwide.
Partner with the innovators.
We love to be first and pioneer in latest technologies to give value to our customers. Westernacher has been one of the first to enter the market of optimizing yard processes with SAP Yard Logistics and implemented the very first system worldwide for a leading global automotive supplier.
Trucking, rail, sea or airport: our experts have worked in the industry before. They understand your business, your pain points and know how to transform your requirements into processes in SAP Yard Logistics.
We do things others don't. The willingness to innovate is in our DNA. With our unique structure as an employee-owned company, we invest in latest innovations for our customers such as automated vehicles on the yard. This enables our customers to step forward into a new era of process orchestration to prepare for upcoming challenges.
Let yourself be convinced by Westernacher Consulting and SAP Yard Logistics (YL) through a pilot implementation. See your basic processes and business requirements fulfilled in SAP YL and use the results to kick-start a further implementation project. Reinvent yourself and prepare for the new digital era. Also, on your yard.
White Paper – Excellence in Yard Logistics
Bridge the gap:
Optimize your supply network by introducing digitized yard processes.
In this white paper we will look at the status quo of yards in today's supply chains, show common pain points and showcase our optimization approaches for operations in different industries – based on our long experience in the field of yard management and process automation.
30-day free trial

of SAP Yard Logistics.
You are tired of manual work and want to digitize the processes in your yard, but you are not sure how exactly? With the 30-day free trial of SAP Yard Logistics you can test how to simplify and digitize yard operations. Discover the various functionalities and benefits of SAP Yard Logistics for a whole month – get an idea how Yard Logistics works and find out if it fits your processes before making a final decision.
Optimize yard processes

with SAP Yard Logistics.
Test drive SAP Yard Logistics and simplify your registration and gate processes. Use the opportunity to define business rules together with our consultants, manage exceptions and unexpected events efficiently and automate your yard processes. SAP Yard Logistics helps you to visualize and monitor your yard by tracking and tracing all operations in real time, as well as using the possibility of a 3D-visualization of your yard's infrastructure.
Reach out to us for support

during this time.
During this free trial period, Westernacher provides you with two highly skilled consultants. Whether setting up and replicating processes or explaining the entire system to you, our consultants are available on demand for support to ensure you get the most out of the 30-day SAP Yard Logistics trial. Furthermore, we can help you analyze your yard with its processes and to reveal pain points and main value drivers which help you in the decision-making process.
Westernacher Consulting

industry templates.
Each industry has different processes with different system requirements. Our Westernacher Consulting industry templates cover basic yard processes for production sites, distribution centers, chemical yards and ports by providing basic customizing as well as basic master data setup.
Benefit from industry-proven yard procedures and standardize your processes. Increase the efficiency of your implementation by reducing configuration time and save costs.
Maintain schedules for future arrivals, direct workflow with personalized worklists and plan dock appointments through our Slot Booking application long before the truck arrives at your yard.
Replace paper-based processes with efficient execution tools such as mobile applications and dashboards and integrate to other SAP modules such as
S/4HANA
, EWM or TM. Connect your yard assets and automate your yard processes by connecting to the Internet of Things and establish exception handling processes rather than reacting to unexpected events.
Identify weak points within your yard processes. Thanks to data preparation, analysis and reporting functionalities, you are able to identify problematic areas and sources of errors within your yard processes. Archive pictures, signatures and documents with SAP Yard Logistics and thus defend yourself against claims.
First partner to implement SAP Yard Logistics.
More than 5 projects from the very beginning of SAP Yard Logistics.
Establish quick wins with Westernacher.
Time-to-Value Solutions for your

yard.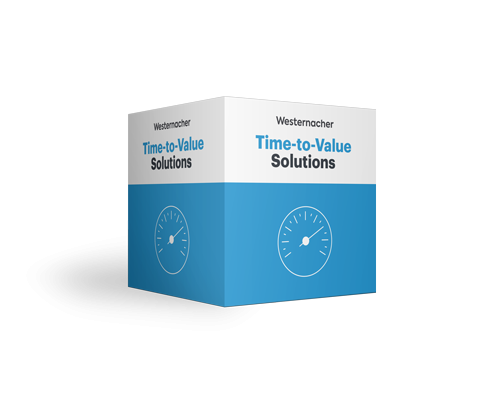 The Westernacher Yard Logistics Fast Solution "Starter" is implemented in 10 weeks from initial project kick-off until successful go-live and hypercare. It replaces manual, Excel or paper-based processes with a fast implementation of SAP standard functionalities and integration to existing SAP landscape where possible. It covers all yard process areas and is a scalable solution to further digitize processes in subsequent phases or rollout to multiple sites.
The Westernacher Yard Logistics Fast Solution "Automation" is implemented in 16 weeks from initial project kick-off until successful go-live and hypercare. It unleashes the potential of the yard in the overall value chain by increasing productivity and reaching higher standards of quality and service. It includes process automation by automated queuing and calling, Westernacher mobile applications and enhanced integration with SAP S/4HANA.
Schöpfen Sie das volle Potenzial Ihres Yards aus. Mit SAP Yard Logistics und Westernacher.
Take your yard to the next level with SAP YL.
A safer site with SAP Yard Logistics.
Time-to-Value solutions for your yard.
First SAP Yard Logistics on SAP S/4HANA implementation in China.​
Business Trends Yard: Replacement of manual and paper-based processes.
Mobile communication with SAP Yard Logistics.
Choosing the right solution for your yard – SAP Yard Logistics vs. SAP EWM Yard Management.
SAP Yard Logistics is now available on SAP S/4HANA​.
Car yard – Handle the import and export of cars with roll-on/roll-off terminals with SAP Yard Logistics.
Manage security sensitive operations with SAP Yard Logistics – airport scenario​.
Manage and combine your dry and seaport with SAP Yard Logistics and SAP TM.
Gain visibility and ensure secure operations on your oil and gas yard​.
Managing your production site with SAP Yard Logistics.
How to use SAP Yard Logistics for Distribution Centers?​
SAP Yard Logistics – System landscapes and integration scenarios.
Real-time evaluation of your yard operations with SAP Yard Logistics Insights.
Learn how to better support your workers with SAP YL.
Automated, digitized and holistic yard processes with the latest SAP YL release.
How to lower TCO and digitize SAP Supply Chain Execution.