Published on September 28, 2018 – Magdalena Zdrojewska, Consultant SAP Yard Logistics at Westernacher
At the end of July 2018, SAP delivered SAP Yard Logistics as an add-on to SAP S/4HANA. This means that then SAP Yard Logistics is now a part of the SAP S/4HANA suite.
SAP S/4HANA in a nutshell – SAP S/4HANA is SAP's next generation Enterprise Application Suite which combines the functionalities of ERP, Analytics, Extended Warehouse Management and Transportation Management into one advanced in-memory platform, based on SAP HANA technology.
SAP Yard Logistics is a cross-industry product which covers various scenarios for all transportation modes. In the SAP S/4HANA world, this becomes even more important. We have already presented some of these scenarios in our blog – Warehouse, Production site, Oil and Gas, Dry Seaport, Car Yard, Airport.
All these scenarios that were working standalone, are now also working as part of SAP Yard Logistics for S/4HANA. Therefore, it is possible to start implementing the standalone version and later move to SAP Yard Logistics for S/4HANA. Below you will find the phases of such a landscape transformation.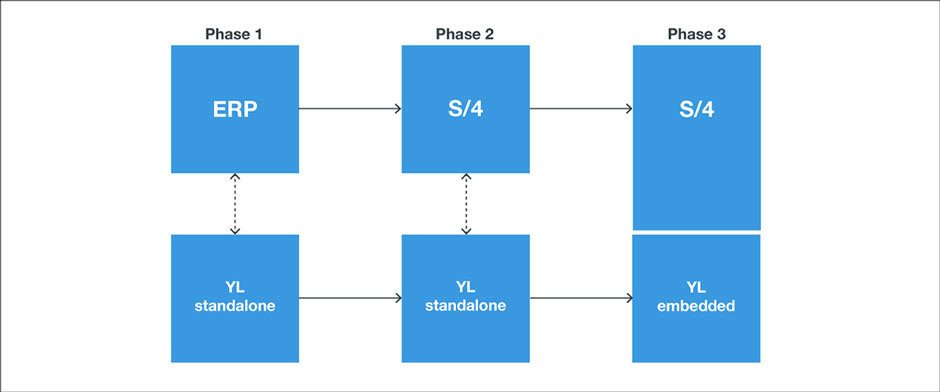 In Phase 1, the customer has SAP ERP in place and wants to get started with an implementation of SAP Yard Logistics so he can integrate ERP with Yard Logistics via the shipment. So sales order, purchase orders or stock transfer orders are created in ERP, then deliveries are created and those deliveries are consolidated to shipments.
Phase 2 covers the transformation of the existing SAP ERP into the SAP S/4HANA system. This can either mean a greenfield approach or a transformation project. For some businesses, it might even be interesting to parallelize Phase 1 (Implementation of the SAP Yard Logistics) and Phase 2 (migration of SAP ERP to SAP S/4HANA). The integration between S/4 and YL works like the ERP integration, depending on the functionalities used in S/4.
Phase/Option 3 could start when you have already installed the S/4HANA system. In this case we help to migrate the standalone version into SAP Yard Logistics for S/4HANA.
The Westernacher Yard Logistics team took part in the SAP Yard Logistics for S/4HANA tests, shortly before the official premiere and supported SAP in the development of SAP Yard Logistics.
Now being part of the SAP S/4HANA suite, SAP Yard Logistics allows for even smoother and more intuitive integration with other SAP S/4HANA functionalities, including SAP S/4HANA Enterprise Management (ERP), Integrated Transportation Management and Extended Warehouse Management. The whole portfolio of ours and SAP Fiori apps is still available for SAP Yard Logistics for S/4HANA.
The basic architecture for the integration is still the same and you can read about it in the article "SAP Yard Logistics – system landscapes and integration scenarios" or it can also be found in the SAP Press e-bite chapter "Integration Scenarios". The big improvement is having one common base for the product and business partners and as a result eliminating CIF integration on this points.
The main changes for this are: New look
For sure, the first thing which we can see is a new layout and the possibility to use SAP Screen Personas.
Screen Personas can be used to create interfaces that can be assigned to specific users. This option is now given in several screens.
The SAP Yard Logistics for S/4 also gives you the option to work with internal Yard Orders. In the previous version, Yard Orders had to be checked in and checked out. For some customers who ran large yards, this option was missing, since trucks were not leaving the yard.
Furthermore, with YL in S/4, no CIF integration between systems is needed anymore. In the non-embedded versions, vendors, consignees and products had to be integrated. Now, the system can work with just one dataset for the master data. The new theme looks even more modern:
This theme is the new SAP Standard theme.
If you are interested in further information on SAP Yard Logistics, please contact us. We are happy to conduct a workshop that enables you to move into the S/4 world.
If you are interested in bringing your terminal to the next level of digitalization or would like to have additional information about SAP Yard Logistics or Westernacher, please contact our experts.