As assets represent the operational units responsible for value creation along the entire supply chain, it is essential that they function properly and interact with each other in an integrated and seamless manner creating a continuous production flow. In an Industry 4.0 scenario, the ultimate goal is to achieve the optimal balance between this uninterrupted production while keeping costs down. All developed digital solutions strive to get closer to this vision, with SAP offering several technologies that let you take a big step in the right direction.
Innovation meets

inspiration.
Time-to-Value Solution.
SAP Asset Manager.
Enhance worker performance with
SAP Asset Manager.
Combined strength of SAP S/4HANA

Asset Management & IAM.
Traditionally, it was sufficient to execute the day-to-day maintenance tasks within the classic ERP system. However, in recent years the perspective changed from executing reactive and paper-based maintenance tasks to evolve to more agile and high-speed maintenance execution and predictive insights. The standard processes within ERP are not designed for these extensive scenarios. SAP has discovered three major areas of expansion whose essence lie within the deeper knowledge of your supply chain by collaborating with partner firms, implementation of sophisticated equipment health assessment tools and methodologies to perform predictive maintenance. This is all rounded up by the introduction of execution and analysis applications for mobile devices to make maintenance execution more flexible. The combination of the different solutions is key for a successful and competitive asset management portfolio. The S/4HANA Asset Management system represents the basis where data is gathered and maintenance work is executed, with the mobile solutions serving as its extended and flexible arm, and the SAP Intelligent Asset Management Solution providing advanced analysis and collaboration functionalities.
SAP Intelligent

Asset Management.
SAP Intelligent Asset Management combines collaborative asset intelligence, planning, prediction and simulation to equipment operations and maintenance. It extends the SAP S/4HANA Asset Management portfolio with mainly cloud-based applications such as:
SAP Predictive Asset Insights
SAP PAI is a sophisticated analysis tool that utilizes IIoT data and business data to introduce scenarios of predictive maintenance. It allows you to monitor the asset health condition in real-time and calculates prognostic KPIs and root causes based on machine learning and advanced statistical algorithms. Furthermore, the solution provides a simulation function where customers can test their assets in action, over time and in a realistic scenario.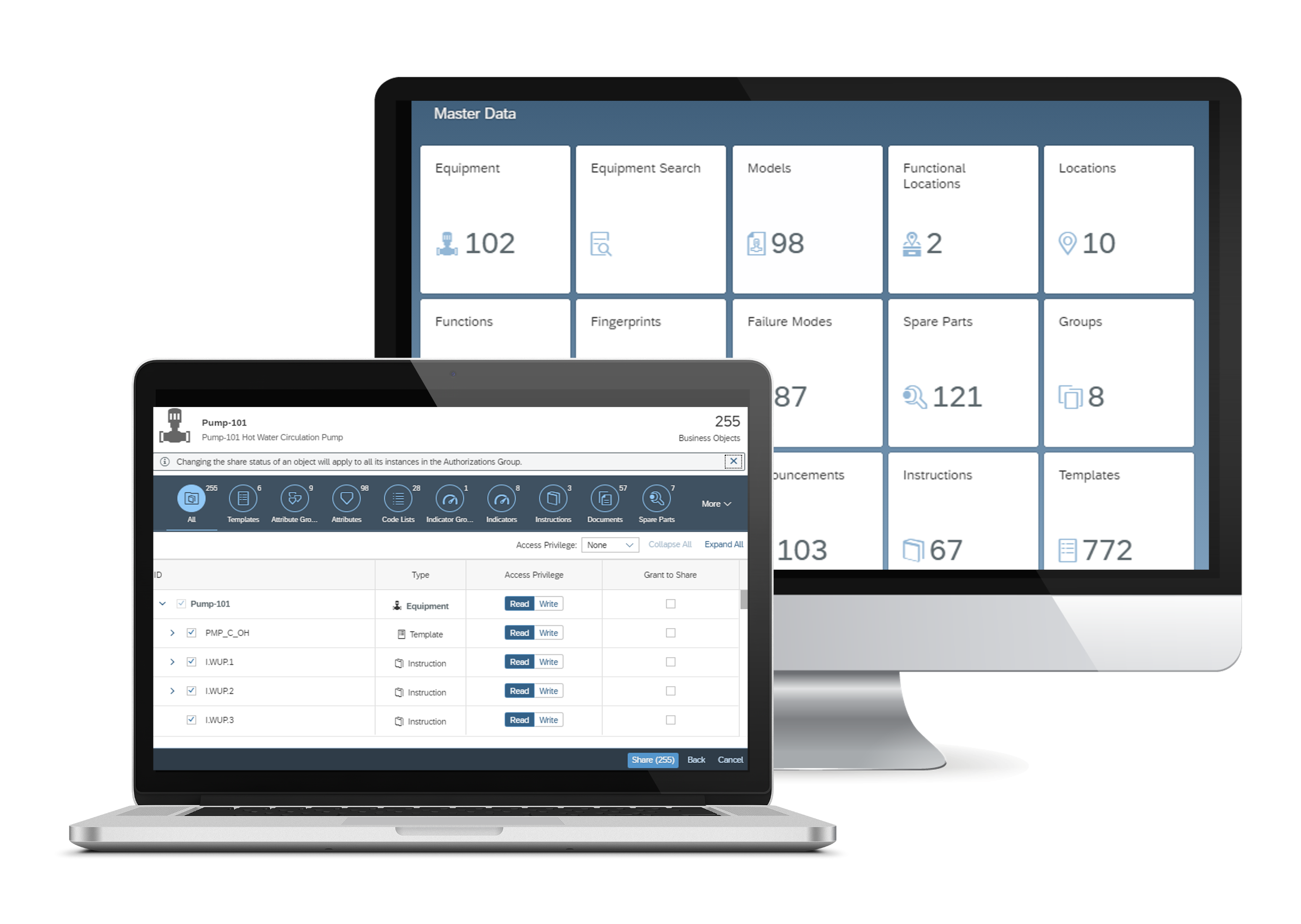 SAP Asset Intelligence Network
Asset Intelligence Network represents a collaboration platform to communicate with Original Equipment Manufacturers (OEMs), customers, suppliers and service providers. It serves as a central data repository for equipment-related data where information can be obtained quickly and from the most adequate source. It enables operators to access up-to-date maintenance strategies and documents from manufacturers and at the same time allowing manufacturers to automatically receive asset usage and failure data.
SAP Asset Strategy and Performance Management
The Asset Strategy and Performance solution provides a combined portfolio of methodologies to define, plan and monitor the optimal service and maintenance strategy on an equipment level. Based on criticality assessments, the system offers the possibility to choose between different frameworks that determine the outcoming strategy, giving recommendations on how to best proceed.
SAP Asset Manager
The SAP Asset Manager application is a mobile solution that manages maintenance execution, condition monitoring and failure analysis in a flexible way. Production operators can fulfill their maintenance tasks with their mobile devices by easily navigating to the desired assets through a geographical map and executing the maintenance activities within an intuitive interface. The solution is tightly integrated to the S/4HANA or SAP ERP system where information such as work orders, used components and task confirmations is communicated between the two systems.
Establish quick wins – Time-to-Value Solutions with Westernacher.
Integrate the Mobile Asset Management solution and the functionalities it comes with within a time-horizon of just 10 weeks. With the Asset Manager operators can leverage functionalities to easily execute maintenance tasks and track their activities  on the fly. Through the inclusion of condition-based monitoring and analysis tools, the Asset Manager serves as the extended and agile arm for the SAP S/4HANA or SAP ERP system.
Increase in effectivity and productivity due to informed decision-making.
Extensive governance features that can be used to determine the degree of control exercised on the maintenance process.
Easy to use application through intuitive design and visual representations on a geographic map of equipment, functional locations, work orders, notifications, …
Meeting of compliance requirements through extensive tracking and documentation capabilities.
SAP S/4HANA

Asset Management.
With SAP S/4HANA Asset Management, SAP offers a solution for the analysis, planning and execution of maintenance in companies. Many terms are used in parallel to maintenance, such as SAP Asset Management, SAP Enterprise Asset Management (EAM), SAP Maintenance Management or SAP Plant Maintenance (PM). They all can be grouped under "Asset Management". SAP S/4HANA Asset Management focuses on four main topics:
Support optimal operations by performing planned and unplanned maintenance tasks. Offer technicians the ability to easily identify, report and correct malfunctions, and respond quickly and effectively to emergencies.
Transparency in plant operation and planning
Proactively monitor critical and time-sensitive maintenance and spare parts inventory activities with quick access to cost, failure rate, and damage analysis.
Optimized scheduling of maintenance work
Create schedules by simulating the scope and scale of the work. Track work status with a KPI dashboard for maintenance planning, maintenance schedule simulation, and graphical representation of maintenance activities.
Safe and compliant operation
Ensure safe working conditions, comply with environmental protection regulations, and provide reliable technical systems.
Find out about predictive maintenance, performance improvement and operational monitoring with integrated SAP IoT solutions.