Virtual Event | SBN Analytics Function Day
How to transform your financial planning.
SBN Analytics Function Day on June 15 is a one-day event for knowledge exchange on the SAP Analytics Cloud and other Analytics tools. New functionality is sugmented and predictive analytics features – How do they work and for what can they be used will be explained. The possibility is to put AI-powered analytics and augmented analytics capabilities in the hands of every business user with no data science training required will change the daily life in the companies using these tools.
Simplify your financial planning

with SAP Analytics Cloud.
Still using Excel for financial planning and analytics? Then it is time to take it to the next level and move to the cloud. SAP Analytics Cloud is the ideal tool for this: a clean, modern and above all user-friendly interface that will delight you, and a simplicity that nonetheless gives you all of the functionality that you have been missing.
Were allocations a struggle? There is an actual allocation engine to hand. Was statistical forecasting off-putting? That is just a right-click on a key figure. Need to present to the board? You have all the rich visuals you could want – even mailed as a daily PowerPoint. SAP Analytics Cloud is designed for business users from the outset.
Our Westernacher Consulting experts Mark Mrosek and Dr. Russell Sadd will show you how to take your planning processes to the next level with SAP Analytics Cloud, and what predictive analytics and real-time data acquisition bring. Financial planning has never been so quick and easy – and Westernacher Consulting has a comprehensive suite of Time-to-Value solutions to get you up and running with best practice, tailored tools in time for the next quarterly budget round.
Russell is a partner at Westernacher and Senior Solution Architect of over 20 years of experience in analytics, and a long chain of major project implementations behind him. In recent years, he has driven the implementation of cloud-based financial planning solutions that truly leverage the latest SAP in-memory technologies.
Senior Solution Architect
Westernacher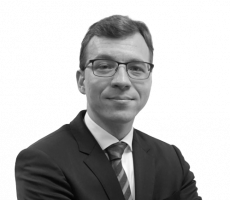 Mark is Senior Project Manager at Westernacher with more than 10 years of experience in finance and analytics across a wide range of different industries. He is lately focusing on SAP Analytics Cloud and is currently managing first-time customer implementations across three continents.
Senior Project Manager
Westernacher
Virtual event

English language