SAP Planning & Analytics Forum 2022
Modern business is driven to address the complexities of ever-changing requirements. Given this, aren't you looking for a single go-to tool that gives you smarter and faster capabilities that make your end-to-end decisions easy and helps you to take immediate action? Westernacher's Planning & Analytics Forum 2022 showcases such analytical capabilities from SAP Analytics Cloud, powered by the in-memory technology of SAP S/4HANA.
Learn how to use dashboards to visualize your supply chain health, leverage self-service reporting tools for your financial transformation, and see how you can gain relevant, accurate and actionable insights that much faster. As a future-ready enterprise, you will doubtlessly need a resource planning system that supports your goals for sustainability and achieving carbon neutrality. Discover how to turn your business around and future-proof it now.
SAP Analytics – The central component of modern corporate management
The road to Data Warehouse Cloud
Iver: In 2022 we will gradually deliver a live, bi-directional connection for planning data to SAP Data Warehouse Cloud, opening the possibility for "live" planning. See our roadmap.
xP&A and finance transformation
Kenneth: SAP DWC as a central data hub is an important piece, but SAC Planning – IFP will still stand on its own legs. SAP DWC as a foundation is optional. Retraction to ACDOCP will continue to be offered. It is needed for operational reporting in S/4HANA to perform deviance analysis in S/4HANA.
Integrated sustainability steering & reporting powered by SAP Analytics
Iver: Yes. For SCT you would need SAC and DWC.
Discover how to become carbon neutral with SAC 
Learn how to shape your supply chain with dashboards 
New generation x (extended Planning & Analysis) tools explained 
Discover the benefits of new generation xP&A tools 
Headcount and personnel cost planning with SAC 
How to monitor you carbon footprint with SAC 
Deep dive into carbon analytics with SAC
Learn how xP&A can transform your financial planning 
SAP Analytics – The central component of modern Corporate Management

Jürgen Bauer & Iver van de Zand, SAP
Using Supply Chain dashboards to steer your operations

Claudia Quilitz, Westernacher Consulting
Best practices on Microsoft Excel integration with SAP Analytics Cloud

Dr Peter Hannig-Mues, Westernacher Consulting
The road to Data Warehouse Cloud

Dr. Russell Sadd, Westernacher Consulting & Lars Jakob, SAP
xP&A and Finance transformation – What are companies expecting from the new generation xP&A tools and how are they benefiting from them?

Kenneth Dalvik, SAP SE
Plan your headcount & personnel cost with SAP Analytics Cloud

Mark Mrosek, Westernacher Consulting
Integrated Sustainibility Steering & Reporting powered by SAP Analytics

Florian Decker & Frank Pilgrim, SAP
How can SAC and Westernacher help you throttle your CO2 emissions and become carbon neutral?

Mark Mrosek & Dr Russell Sadd, Westernacher Consulting
How to validate your carbon footprint

Dr Oliver Blau, Westernacher Consulting
Kenneth is a business-oriented IT specialist with over 14 years of experience in BI, Analytics and Enterprise IT covering several technology platforms and capabilities. His experience covers many industries and processes including Finance, Spend Management, HR and Workforce Management, Sales and Opportunity Management, Credit Risk Management and Manufacturing.
Presales Data & Analytics Architect, SAP
Russell is a partner at Westernacher and Senior Solution Architect with over 20 years of experience in analytics, and a long chain of major project implementations behind him. In recent years, he has driven the implementation of cloud-based financial planning solutions that truly leverage the latest SAP in-memory technologies.
Practice Lead DACH Business Planning & Analytics, Westernacher Consulting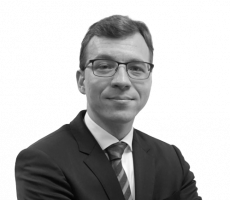 Mark is Practice Director Business Planning & Analytics at Westernacher with more than 10 years of experience in finance and analytics across a wide range of industries. He is lately focusing on SAP Analytics Cloud and is currently managing first-time customer implementations across three continents.
Practice Director Business Planning & Analytics, Westernacher Consulting
Oliver is Director of Westernacher BMC GmbH (the German legal entity) and COO of the Westernacher Group. He has over 20 years of consulting experience, providing advice to senior management of Westernacher clients and guides top class global players through complex business reengineering and IT challenges.
Managing Director, Westernacher Consulting
Claudia Quilitz is an SAP-BI specialist with more than ten years of experience. Her main focus is on the construction of ETL-processes in SAP BW and the creation of reporting applications for different levels of management with Business Objects tools and SAP Analytics Cloud.
Solution Architect Planning & Analytics, Westernacher Consulting
Peter is a partner at Westernacher Consulting, with 20+ years of consulting experience advising clients facing complex IT challenges. He has designed, built and introduced a great number of business intelligence and planning environments of differing sizes and has covered all aspects of such implementations for well-known multinational companies.
Senior Consultant Planning & Analytics, Westernacher Consulting
Jürgen Bauer has been responsible for Analytics at SAP Germany for more than 10 years, where his responsibilities include PreSales and Business Development. He is currently responsible for SAP Analytics Cloud in the Platform & Technology area. The main focus of his consulting is on the migration from the analytics on-prem world to the cloud for medium-sized companies and large groups. He also coaches various start-ups in the field of data and analytics.
Head of CoE Business Intelligence, SAP Planning & Analytics
Florian Decker is responsible for SAP Analytics Customer Advisory in Middle & Eastern Europe. Previously Florian was acting as Chief Operations Officer for the SAP market unit "Central & Eastern Europe" and in several regional and global leadership positions in Consulting, Partner Management, Sales and Business Development for SAP Platform & Technology Solutions.
Lars Jakob is responsible as Chief Architect in Customer Advisory Platform & Technologies for the Data & Analytics portfolio in Middle & Eastern Europe. Previously Lars has been working in the Enterprise Software industry across Custom Development, Consulting, Business Development, Go-to-Market & Presales always focusing on Data Warehousing & Analytics.
Chief Architect for SAP Platform & Technologies, SAP
March 22-24, 2022
9am-12.30pm (CET)
English