Article – New s.Oliver logistics center in Bavaria
Westernacher delivers SAP EWM with material flow control for intralogistics.
Published on September 29, 2022
The s.Oliver Group is taking an important step towards making its logistics processes as efficient as possible with optimized automation. Its logistics center with hub function for the whole of Europe is set to open in the Würzburg area in 2024. As general contractor, Ferag AG is responsible for the overall coordination of intralogistics and the automated handling of ordering and returns processes. Westernacher Consulting implements the customized, digital SAP Warehouse Management.
A European hub for around 60 million items of goods per year in online retail is being built in Dettelbach in Bavaria. The German apparel company s.Oliver Group will locate the entire logistics processing of the B2C business at this site and integrate the reorder process as well as the supply of self-managed areas for the B2B sector. The new logistics center is a logical next step for greater flexibility and a higher service level to end customers, as well as a response to the significantly increased requirements for automated processes in e-commerce retailing.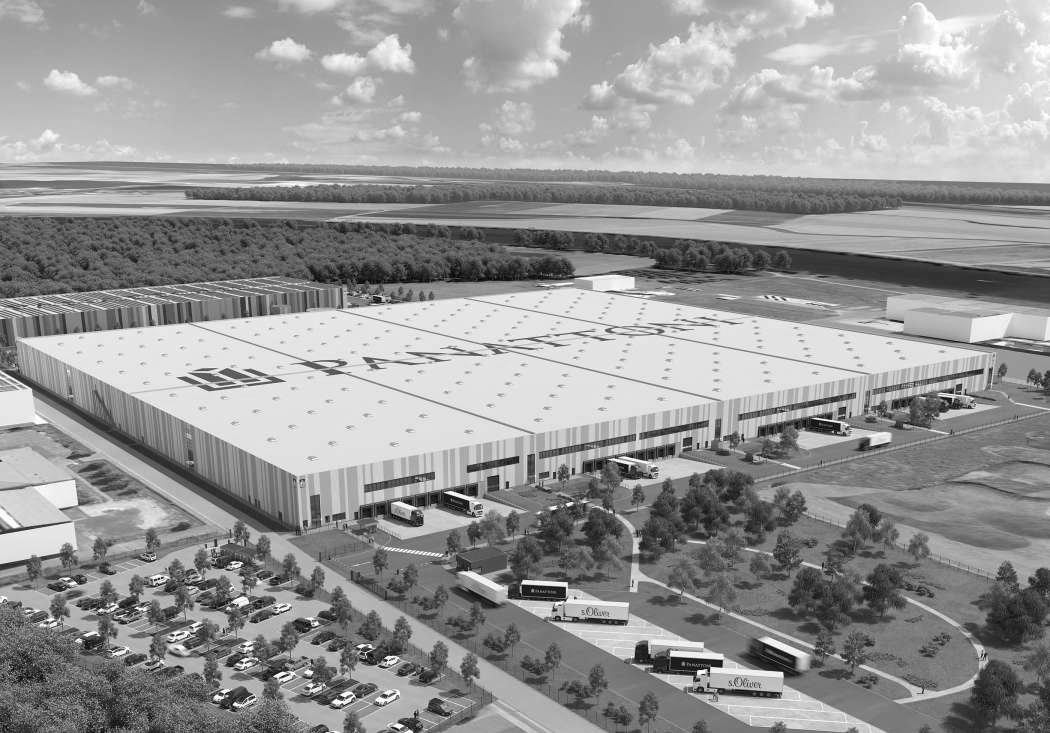 Impressive project in Dettelbach, Bavaria: A new logistics center is being built on a usable area of approx. 78,000m2 for the s.Oliver Group, where the entire B2C business will be handled. (Source: Panattoni, 2021)
Maximum process reliability thanks to
fully automated connection.
"For Westernacher Business Management Consulting GmbH, together with the general contractor, Ferag AG, the hub is a key project with considerable dimensions. The project kicked off at the beginning of January 2022, and several teams will work exclusively on it for almost two years. More than 16km of conveyor systems will be supplied by Ferag AG. They will run on three levels, connect several halls with each other and ensure seamless process handling. Ferag's proven Skyfall bag sorting system will be loaded with 125,000 bags and will ensure all steps in the ordering and returns process: receiving goods from the hanging garments storage; fully automatic bag loading with prepared returns; dynamic buffering for efficient material flow and prompt availability of goods; automatic bag emptying and distribution of picked and sorted goods to the packing stations; delivery of goods to the shipping area. In addition to Ferag AG's MFR, an SAP EWM system is used to control the processes of the warehouse and the material flow. Westernacher customizes and further develops this system for the customer in order to guarantee the complex processes with the required reliability and speed," says Ferag AG about the joint project.
Westernacher SAP EWM system guarantees
maximum delivery capability.
The Westernacher IT experts implement an SAP Extended Warehouse Management with MFS (Material Flow System) in the s.Oliver Group logistics center. This is supplemented by the Westernacher MFS-framework add-on, which reduces the complexity of connecting automatic sections through standardization. This minimizes the risk and simplifies later support or planned extensions. Added to this is a two-stage shaft handling with sorter integration, WE schedule – Westernacher's own add-on for yard handling, as well as the integration of the Ferag pocket sorter (Skyfall), the development of special workstations with Fiori / UI5, returns processing and a direct connection of an e-commerce system to SAP EWM.
Westernacher's proven expertise in managing warehouse processes and automated warehouse components and the concept tailored to the s.Oliver Group with Westernacher's own add-on developments, especially in the area of material flow control, won over the s.Oliver Group and Ferag.
"The concept must ensure a high degree of flexibility. And with that Westernacher together with Ferag AG determines the race," explains Udo Steinbach, Practice Director Warehouse Management at Westernacher. "Westernacher's solutions fit the requirements exactly." A high degree of automation must be ensured in order to be able to react quickly to the demands of the market. After all, s.Oliver wants to guarantee its customers maximum delivery capability and raise its service level so that goods ordered by 3pm are dispatched on the same day.
Warehouse management
par excellence.
With this large-scale SAP EWM implementation project, Westernacher is strengthening the competitiveness of the German fashion company. The experienced IT consultants are digitizing the warehouse management of the s.Oliver Group by using highly developed and customized SAP technologies.
To be specific: SAP Extended Warehouse Management with material flow control for intralogistics. The Heidelberg IT experts integrate business processes to not only monitor and, if necessary, reduce costs in the logistics center, but also to quickly optimize and adapt processes. After all, digitization provides the data needed for effective warehouse and logistics processes at the German fashion group to respond flexibly to changing market conditions.
Due to its excellent IT knowledge coupled with many years of experience as an SAP Gold Partner, Westernacher is taking on the project in Dettelbach, Bavaria. It is already clear that after the logistics center opens in February 2024, the business and technology know-how provided by Westernacher will be forward-looking for the entire industry.
Westernacher Consulting.
Nonstop Innovation.
Westernacher Consulting is one of the world's leading companies for technology and innovation focused on end-to-end supply chain processes. For more than 50 years, companies trust in Westernacher as a reliable partner for implementing technical innovations and operational excellence. The basis for this is its in-depth expertise in process and SAP consulting, design and implementation of complex IT systems.
The company is active in Europe, Asia, North and South America. The digitalization and automation of the economy is a top priority. Westernacher provides analysis tools for climate neutrality and has been carbon neutral since 2021.
When it comes to innovative business solutions such as SAP Extended Warehouse Management, Transportation Management, Logistics Business Network, Yard Logistics, ERP, Digital Manufacturing, Industry 4.0, Advanced Analytics, Integrated Business Planning and much more, the IT consultants from Heidelberg are your experts for SAP solutions. Because Westernacher Consulting is an SAP Gold Partner with 25 years of valuable experience.