Published on February 22, 2022 – Alexander Hero, Consultant Industry 4.0 at Westernacher
Classical manufacturing execution systems (MES) have often been isolated on-premise solutions limited to the production site in which they were deployed. Additionally, these implemented systems were to a large extent constrained in their functionalities, costly to update and resource intensive to maintain. In the trend towards increasing interconnectedness of everything and accelerating innovation cycles, these decentralized system deployments are gradually moving to the cloud. Companies are expecting to achieve efficiency gains, increase data security, and improve the overall quality of production processes. The central goal is to intelligently manage and use manufacturing services as they are required. Further, designated functionalities for individuals on every hierarchical level can be provided via one solution and independently deployed to different production sites.
In the following two blog posts we will introduce SAP's production execution component of the Digital Manufacturing Cloud (DMCe). Starting with how the DMC realizes the traditional role of an MES to digitally optimize production operations of a specific site, followed by an architectural perspective on how to ensure a resilient and flexible system environment. We will give an idea on how to smartly set up your manufacturing processes while ensuring an optimal balance between cloud and edge production processing*.
DMCe supporting frictionless production (discrete industry example).
In the following example, some functions of the DMCe component are explained using the fictional bicycle manufacturer "GObike". We as "GOBike" receive sales orders to produce a total of 200 bicycles today. After converting the sales orders to production orders in our ERP system, we send these to the DMC containing all relevant information regarding planned production times, individual manufacturing operations, bills of material (BOM), work instructions and inspection characteristics for quality management. On releasing the orders, a staging request is sent to the warehouse system to ensure that the materials are delivered to the designated production locations at the right time.
As an innovative company, we have fully automated the first operation of bicycle frame production. We have designed the entire operation process within the DMC using a graphical tool where the individual actions and automatic triggers are defined and maintained from a business perspective. "Design production processes" represent an application that gives you the opportunity to define the autonomous parts of your manufacturing process step by step, specifying different input parameters, data processing rules, thresholds … dependent on your requirements. You can design your processes centrally within the cloud and deploy them down to the edge component at your respective production site.
Figure 1: Rudimentary representation of a production process in the graphical "Design Production Process" application.
Going back to our example, we might want the triggering point of our first production step to be a simple start button on an operator dashboard. This initiates the injection of a certain amount of hot aluminum alloy into the mold of the bicycle frame. When the alloy is in place, our fast-cooling process is initiated, allowing us to build one frame every 10 minutes. Throughout the whole operation, pressure and temperature sensors monitor the process and when thresholds are breached corresponding nonconformances are documented and corrective actions are instantly initiated. In the next blog post, we will explain a bit more about the technical and architectural setup of the DMC and its connections to the shopfloor.
Figure 2: Representation of high-level bike assembly and integration to other SAP systems.
Following this automated production step some manual work must be executed. The assembly of the frame, handlebars, gears, and all the other materials is up to a production operator. However, as each of the bikes has a personalized design, individualized material is delivered from the warehouse to the respective production site. The tight integration to the warehouse system plays a vital role within the DMC environment, as only required parts must be delivered to the production line in order to save storage space and manufacturing time on the shopfloor. That is why our operator is equipped with the corresponding 3D work instructions giving detailed step-by-step guidance. Additionally, our operator must confirm and document whether all assembly steps have been conducted accordingly by filling out a data collection list reporting information about production process-related data (e.g., conspicuities during assembly, torque on the crank or humidity on the shopfloor). We design our production operator dashboard according to our specific requirements, combining functional plugins with graphical UI (User Interface) elements within the Production Operator Dashboard (POD) designer. Like our automated process design, we create the POD dashboard centrally within the public cloud and deploy them to the respective edge components sitting at the production site.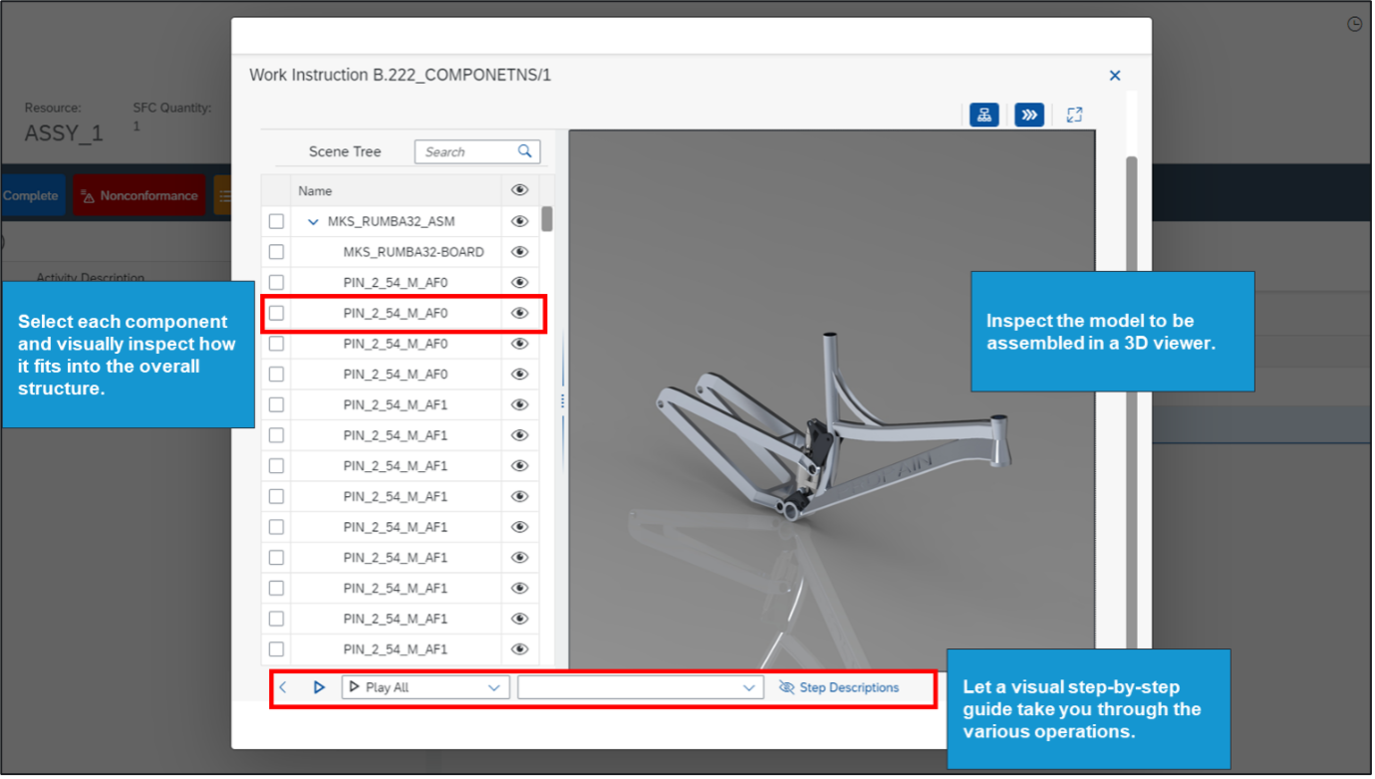 Figure 3: Display of a 3D work instruction viewer within the production operator dashboard.
As a final step, the quality inspection is performed where our product testers look into the specific inspection characteristics from a defined inspection lot (sent from the ERP system). In this case, we examine every bike, performing different reworking steps or starting repair operations should any quality requirement be violated (thickness and elasticity of frame, etc.). Our quality inspection team is supported by the visual inspection component, which represents a standard functionality in DMC. Different cameras take photos from various angles of the bike and the system classifies whether the individual picture taken displays an acceptable or defective product, and which kind of rework is required. This standard functionality is dependent on a tight integration of quality management on the ERP system with the DMC. It provides fast, extensive, and consistent quality measurements.
After quality inspection the bike will be packed and stored within the warehouse before it is shipped to the customer. As indicated in multiple sections of this article, a tight integration into the warehouse is crucial for a seamless manufacturing flow. Bringing the peculiarities and requirements of both the manufacturing and warehousing world together often poses a significant challenge, and in past projects we have seen that special attention needs to be paid to this integration aspect. A detailed description of the integration scenarios will be part of another blog post.
With this short display of some of the DMC's functionalities we wanted to give you an impression of what is already possible with the Digital Manufacturing Cloud. Peeking into this year's pipeline we can see a lot more to come (e.g., Andon management, handling configurable products …), which again highlights that DMC is the strategic manufacturing product on the market for SAP. Through its modular architecture you can combine standard and tailored functionalities, plugins and designs based on your requirements to create the production execution system you need. This statement remains true for manual manufacturing with the help of PODs as well as for automated process conduction.
In the next blog post, we are going to go a bit into the detail of the architectural setup regarding cloud and edge computing, showing you the advantages of centrally designing, managing, and maintaining your local DMC instances.