Published on May 10, 2021 – Alexander Greb, Vice President & Global Practice Lead Intelligent ERP, Value and Innovation Consulting at Westernacher
Why should I be interested in the RISEwithSAP offering?
RISEwithSAP is a packaged offering that contains a comprehensive, on-your-terms and in-your-timeline transformation to the Intelligent Enterprise. It responds to the need for a simplified, flexible, holistic path to become a digitalized enterprise that is fully accompanied every step of the way. The package bundles the tools, guidance and support systems required for enterprises to become truly intelligent and fit for the future.
SAP has clearly recognized that change has always been part of business, but today's environment forces us to deal with change – both good and bad – faster than ever before. New technologies are disrupting how we live and work, and global challenges such as COVID, climate change and geopolitical tensions expose how fragile our world is. The last 12 months showed clearly that only companies that are resilient and able to adapt quickly to unforeseen situations will thrive. You need to work with more agile, more intelligently, more efficiently to point out new ways.
And doing so takes more than just a "Lean Conversion" to SAP S/4HANA or a technical migration to the cloud. A holistic business transformation is about changing the whole culture and mindset of an enterprise. It's about redesigning your business processes. It's about adopting new technologies – to unlock new ways of running your business and stay ahead of your competitors.
Is RISEwithSAP applicable to any SAP customer?
Of course, every SAP customer is at a different point and has a unique path forward. Digitally grown startups and other innovators have often already embraced standardized processes and cloud architectures, but they need solutions that can scale and grow and push them forward at an increasingly fast pace.
Companies with a longer heritage and history are facing complex – and, often, highly customized – on-premise system architectures. Systems that have delivered for decades but carry a higher cost and are limiting their ability to adapt and innovate quickly. Other companies have started their journey into the new world of modular ERP cloud applications, but they are in the very early stages and aren't yet seeing the power of true transformation.
Then some are starting at the outer edges of their businesses – and moving selective markets or processes or businesses to the cloud – and now must determine how to link these innovations to the core of their businesses.
The point is: There's no singular path forward, while still every business is moving forward. That's why SAP has launched its holistic offering as a Business Transformation as a service that is executed in close cooperation with its partners like Westernacher Consulting.
What's in the RISEwithSAP package itself?
It starts with SAP S/4HANA Cloud – bringing agility and responsiveness to the core of your business and your business processes.
You choose your infrastructure – you can work with four different hyperscalers (Microsoft Azure, Amazon Web Services, Google Cloud Platform, Alibaba Cloud), SAP data centers or – for regulated industries – your dedicated data centers. So, you get the flexibility to choose the infrastructure that fits for you without getting locked into one infrastructure as a service provider to manage your data and systems.
It's all on a single platform – the SAP Business Technology Platform– for you to complement, extend, and integrate with SAP, partner, or third-party solutions using the same data model, single source of truth and business services.
Business Process Intelligence, SAP's new intelligent application that pinpoints the best place to start by analyzing how your processes perform and benchmarking them against industry standards to get tailored recommendations of where to focus first and implementing those processes on demand.
An SAP Business Network Starter Pack that extends transformation beyond your four walls – creating dynamic, digital connections with trading partners to help you move business forward faster than before.
The tools and services to support your whole journey – from SAP's readiness check and custom code analysis to the SAP Learning Hub.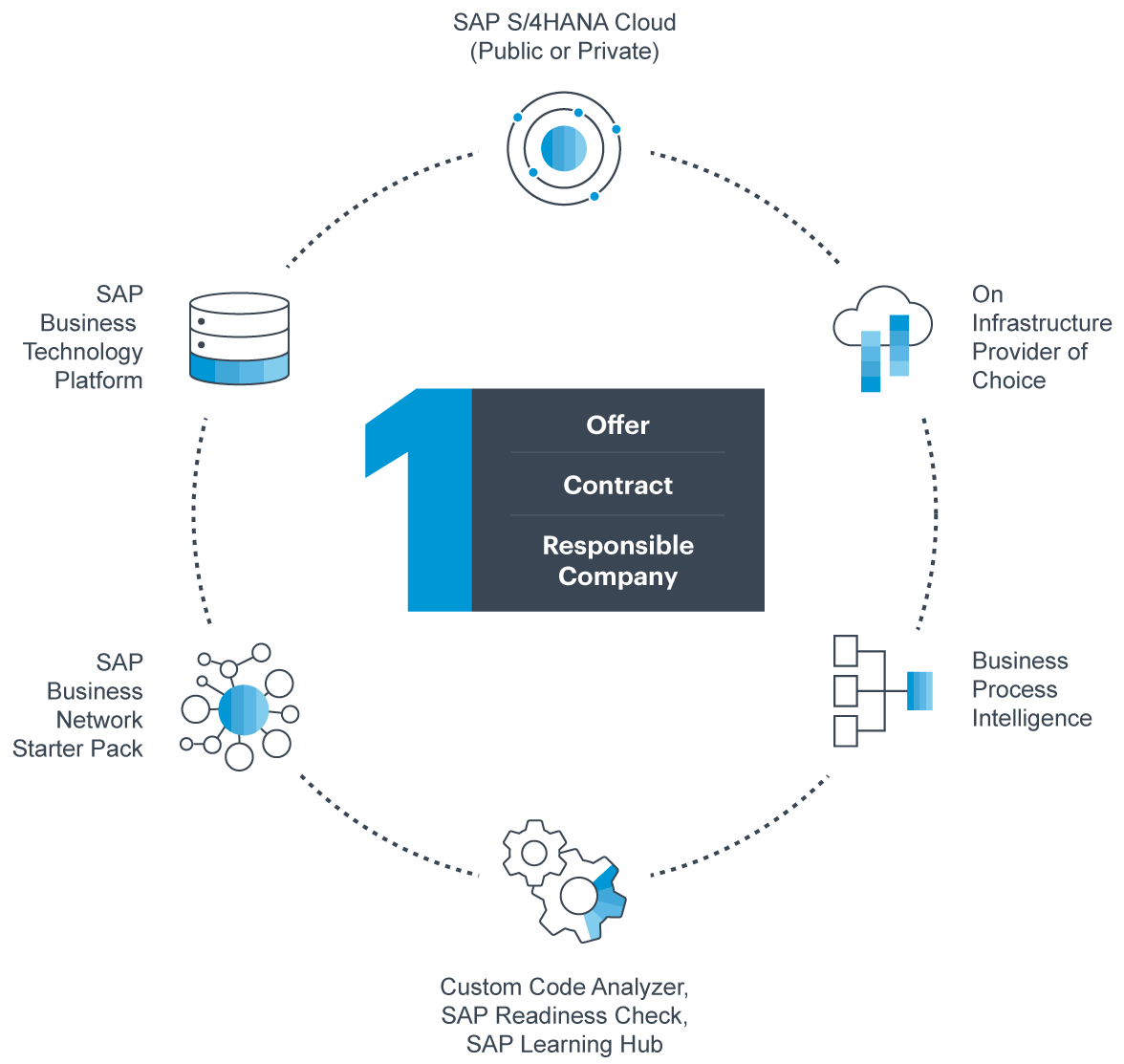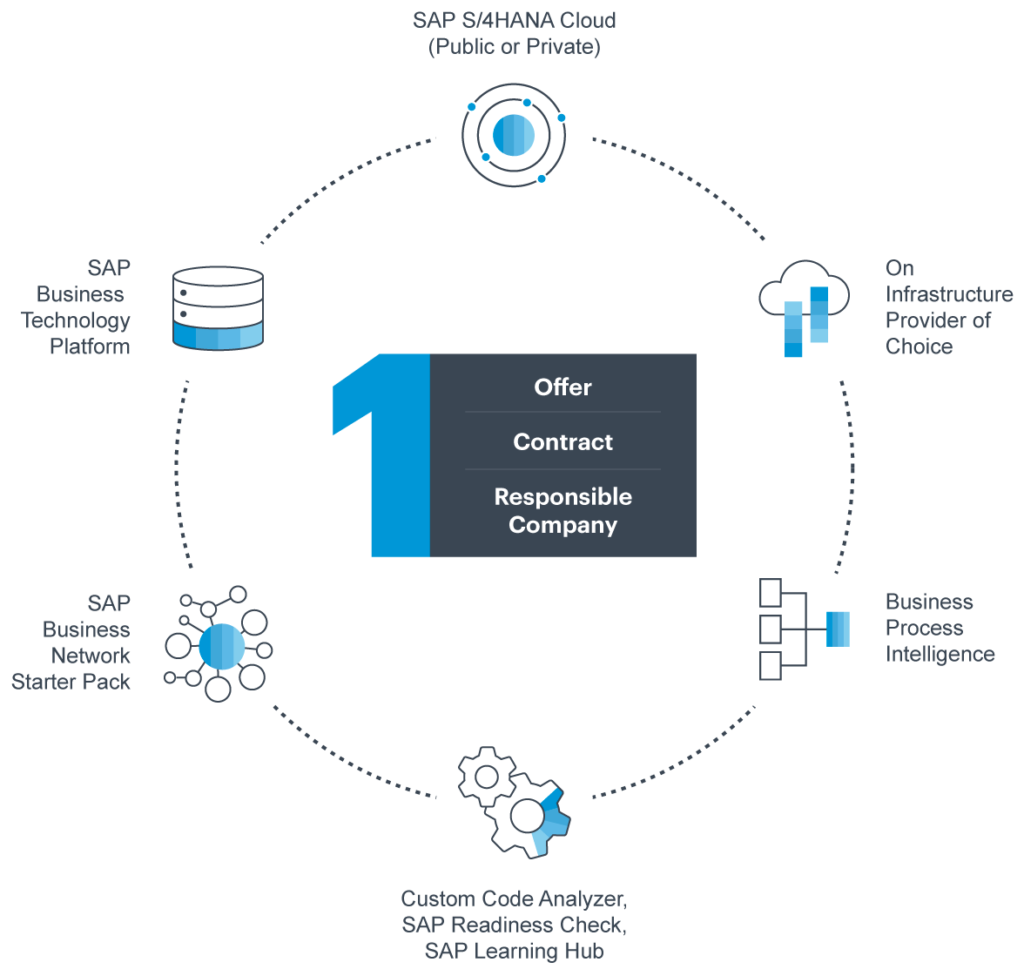 What are the hidden game changers in this offering?
For us as a customer-value-driven implementation partner, one game changer that stands out and that is often overlooked in the official communications is the possibility to migrate into the cloud (Private Edition). Before, an ERP cloud project always had to be a greenfield project. Now the migration tools are ready and available so that you can select a brownfield or favorable selective transition approach in which you choose what you take with you and which innovations you want to leverage at the moment of the go-live.
Westernacher Consulting is happy to help you with the proven best-practice methods to choose the right approach for your individual situation.
Also, the Business Process Intelligence element is "Insight to Action"-based and not only analyzes your current process landscape for optimization potentials but delivers process design tools and methodologies at hand. Achieving process excellence used to an expensive effort in a project, but it now becomes a standard process.
Aside from the strategic value, what total cost of ownership optimization can I expect?
IDC studies have estimated that RISE with SAP delivers considerable benefits in comparison to the existing SAP ERP Central Component (SAP ECC) environment:
Lower TCO: Up to a 20% reduction in TCO over five years for SAP S/4HANA, Private Cloud edition as compared to a traditional ERP deployment.
Faster deployment: A more than two-month potential acceleration in deployment speed as operational lead times fall.
Reduced in-house costs: 87% reduction in sticky costs due to a more flexible operational environment.
But these, of course, are just the TCO benefits – the strategic benefits of the enterprise capabilities you gain be fully embracing digitalization have to be added for a full- value picture.
What is my first step to benefit from RISEwithSAP?
Talk with us at Westernacher Consulting. As SAP Gold Partner and Thought Leaders in the digitalization area, we will listen to your plans, challenges and strategy and build together with you an individual roadmap that considers your situation. With our vast experience in digitalization best practices, we will take care that you are put in the position to fully leverage the benefits of digitalization and the horsepower of SAP's applications is put to the street. We would be happy to introduce you to our RISE assessments and Time-to-Value services that set the path for your successful digital journey.