Tune up your supply chain visibility.
Partner with FourKites to tune up your real-time supply chain visibility in SAP TM.
Published on December 4, 2019 – Nicholas Runge, Practice Director Transportation & Logistics Americas at Westernacher
Shipment tracking is problematic in the logistics world for those who don't have constant visibility to it, but for those who do, it serves as a time-saving efficiency driver. In turn, a lack of visibility can have a detrimental effect on many parts of a business, including:
Higher detention costs because of long wait times or missed/late load fees
Decreased employee efficiency attributed to spending time calling carriers to find their locations
Decreased customer satisfaction; reactive approach as opposed to proactive with shipment updates
Cost of inventory, if unaware of a load's location or actual shipped quantity, additional stock is then ordered or produced
Transportation Management software solutions provide increased efficiency in loading, routing, and management of transportation resources, but due to the robust network of carriers across multiple platforms they are limited in the status updates they can provide. This is where FourKites comes into play as a valuable partner, with the largest predictive supply chain visibility platform – home to a network of over 4 million GPS/ELD devices covering all modes of transportation.
Tapping into FourKites robust network, complete visibility from end to end.
Westernacher and FourKites are now collaborating to leverage FourKites' network with Westernacher's systems expertise and knowledge of SAP Transportation Management. As a tracked load is created in a shipper's system, FourKites uses their device network to ping every 15 minutes to update the real-time location of that resource. As the location is updated, other variables such as weather, traffic, business hours, and driver hours are considered to provide an updated estimated time of arrival. While this is occurring, SAP Transportation Management receives status updates to track the progress of the shipment – including delays, drop-offs, and any other event that occurs during the route.
Westernacher and FourKites integration starts with the initial created order from SAP Transportation Management, which is then duplicated as a Load in FourKites and then assigned to the SAP Transportation Management Order. Once the orders are linked, the FourKites Load updates are applied. These updates are then pushed through Event Management (in SAP) back to the order in SAP Transportation Management.
The SAP Transportation Management user now sees these updates on a map within SAP TM. As they check on a load, they can use this information internally, instead of calling carriers for status updates. Reviewing updates on a map in real-time saves time. This is especially the case as the number of shipments that need reviewing increases. Status alerts can also be set to alert the user when delays or unplanned changes occur. The user is now able to proactively notify the customer or the carrier and determine what options are available.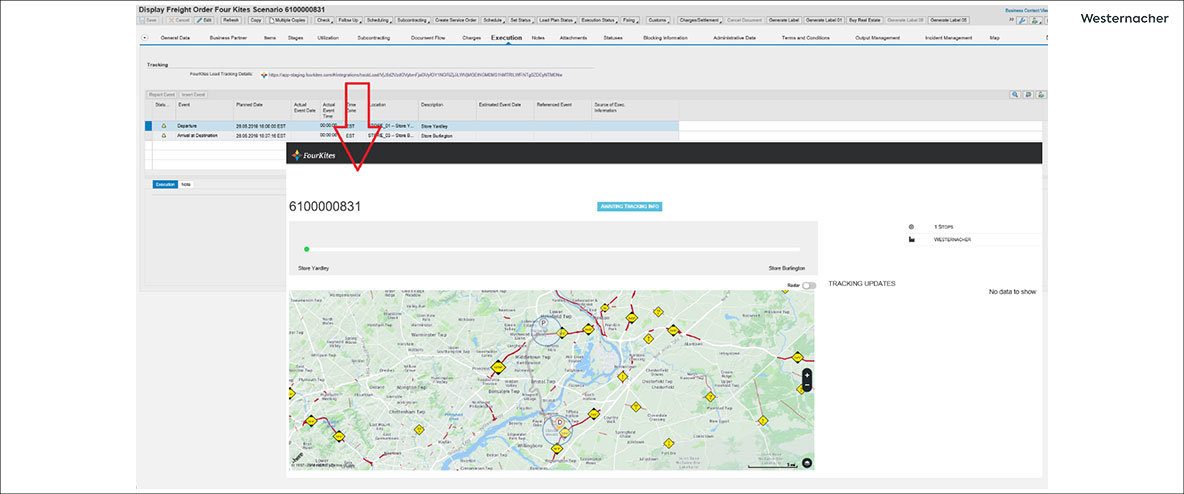 From the SAP Transportation Management execution tab shown above, users will find a clickable and shareable link to the FourKites load map. This can be shared with the customer so they can view their shipment's progress.
Strategic partnership, for a best-in-class solution.
The combined FourKites and SAP Transportation Management solution offers best-in-class capabilities to not only efficiently load and route your resources, but also to monitor your assets. When implemented, there will be savings in the amount of time spent chasing down carriers' locations, improved customer satisfaction levels due to transparency around the status of their order, and decreased detention costs with total visibility to arrival times.
This combined offering can help your business take your logistics to the next level through load and route efficiency, real-time tracking visibility, and a user-friendly dashboard designed to maximize operational tasks. Reach out to Westernacher today to learn more about this combined solution and how it can optimize your business.